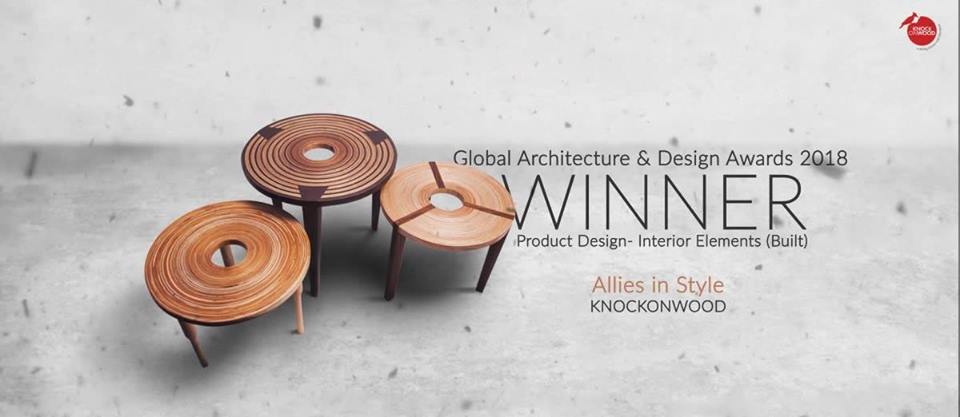 Allies In Style: An Award-Winning Product
The Language of wood surpasses the language of humans!
Knock on Wood (KNW) crafts stories, with designs and structural intelligence, from raw wood. "Allies in style: an award-winning product" exemplifies wood's beauty with innovation, versatility and performance. Repetitive reiterations led to the creation of Allies. Allies is not the only furniture but it is part of your home, your office or hotel. KNW crafts custom-made furniture with a focus on high-quality craftsmanship, excellent detail and elegant style. Directly this custom-made furniture in Delhi to global reach has woven hearts in wooden furniture arena.
The team of designers at KNW is headed by Aarti Aggarwal. In her words, "I firmly believe that good design is important for growth in all aspects of life. Allies was our attempt to challenge our creativity by way of using scrap wood in a renowned craft technique, and I am delighted that it was loved and appreciated by the stalwarts of the industry."

Must Read: Why to Choose Wooden Furniture for Your Home?
Allies, is a range of coffee tables and side tables that have resulted from the global learning experience in a chair design course at the Danish Skole of Design. The pattern of the table is the result of glueing strips of wood together.
It is Bonds of Strength: Strength and Durability through overlapping of the strips of wood.
 The art is entirely nail-less, as steamed strips of wood are glued and clamped together till they are dry. It is way lighter than tables with a solid wood top, and its lightweight construction beautifies big and small spaces alike. These are undoubtedly one of the best furniture designs in India and are ideal for living rooms or other spaces around the home. Moreover, they add valuable bond of imagination to professional environments. The versatile solid wood allows you to change the look of the room from modern to classic providing a new style.
KNW aims to "enhance life and spirit through timeless, responsible design…..total design," said KNW in a statement published on its website.
KNW's designs are aimed to become a part of you, a part of your homes and their stories. Whether it is numerous cabinets for a hotel chain or a signature coffee table that takes centre stage in a living room, it accentuates the aesthetic value. Teak wood furniture adds elegance and true exquisiteness for the liveliness of the surroundings. These classic or contemporary, sometimes bold, sometimes eccentric, sometimes daring, KNW designs are genuine and honest to materialism. The custom-made wooden furniture is made to order with your expectations from the design.
Recommended: How to Pick the Right Furniture for Your Home?
The respected design jury embraced innovative new materials, systems, and techniques, contributing to modern wood aesthetics. This esteemed jury comprised of Gurdev Singh, Hari Agashe, Pramiti Madhavji and Tanuja BK and many others. These awards were concluded on March 25th 2018 in Srilanka. Knock on Wood's entry, "Allies", won the appreciation of all participants and the jury successfully addressed this year's theme "design to the masses" through a Danish technique of wood lamination for tables while using the scrap wood.
"Aarti specializes in Chair design from Danish Skole of Design, Copenhage, capital of Denmark. Herintrinsic  strong design awareness articulates her international exposure and innate love for Indian art & culture as she has studied domestic design from University of Arts, London."
Most of all, it is the wooden furniture that provides the structural stability that other materials can't.  Teak wood furniture with handcrafted custom-made furniture not only gives the perfect functionality but also the exquisite look of luxurious style. It's the design element that establishes organized and methodological planning. Thus, furniture also works as a practical element in the interior design, which," Allies in style" has achieved successfully!
Celebrating wood in its pure form, Allies in Style, only at Knock on Wood